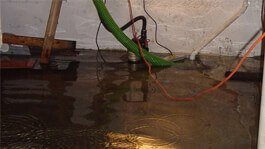 Basement Waterproofing Services Homeowners often wonder how water even manages to get into the basement of their home. There are many factors that …
Identifying issues with your home's foundation What causes problems with your home's foundation? Soil conditions, drainage problems, and homes built on a slab …


WE ARE PASSIONATE
We have a proven record of accomplishment and are a reputable company in Alabama. We ensure that all projects are done with utmost professionalism using quality materials and respecting our customers' busy schedules.



 HONEST AND DEPENDABLE
For us, honesty is the only policy and we strive to complete all projects with integrity, not just with our customers, but also our suppliers and partners.


WE ARE ALWAYS IMPROVING
We commit ourselves to always providing our customers with the best solutions and materials available. We consistently attend hands on and classroom training to ensure we are knowledgeable and certified in our industries best practices.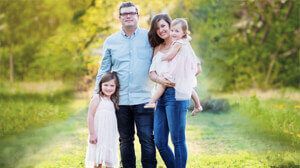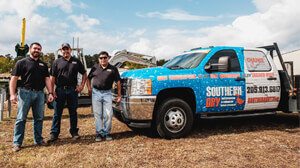 Water in your basement, musty smells, scary wet crawlspace, foundation issues…we can help!
We believe it is important for you to know that SouthernDry is a family owned business. How does that benefit you as our customer? It means that we treat you and your property as we would our own. Everyone on the SouthernDry Team is here to help through every step of the process. One of the number one complaints we hear from customers that have gotten bids, or actually used other larger companies, is that there are so many points of contact and it's often hard to even communicate with them.
I have had the total encapsulation for one week now, I am proud to say my relative humidity in my house now stays around 38-40%, I have actually had to raise my thermostat due to it feeling so much cooler and comfortable in my house with the lower humidity levels. I called around and compared prices and SouthernDry was by far the least expensive and the personable and easy to work with. And my crawlspace is dry as a bone. If you have moisture problems or high humidity in your home I would definitely recommend giving John Kabel with Southern Dry a call.
Clyde M. - Greenville, AL 36037
Had a couple or areas of where water had entered crawl space. John (Owner of SouthernDry) had his men lay French Drain inside entire perimeter of Crawl Space with addition of a sump pump. Then had Crawl Space Encapsulated. Also, Had a Dehumidifier and Condensation pump installed to prevent future humidity problems. Southern Dry did an excellent job for a fair price. John was always available for any questions I had during the entire process. I would definitely recommend SouthernDry for any encapsulation project.
D. P. - Gardendale, AL 35071
We had a severe problem with water in crawl space. We contracted with John to provide encapsulation, and he did a great job. The men who did the work were also great, and I was impressed with how well they cleaned up when the job was completed. A representative from our termite company came today for inspection, and he was very impressed. He said, "whoever did your encapsulation did an excellent job. I was able to go all over the crawl space, which was totally dry, and I could see everything so well due to the white plastic."
M. L. - Leeds, AL 35094
Excellent customer service! Excellent work! Excellent Choice! The owner came out and spoke with me about the project. He is very knowledgeable in regards to his line of work. I didn't feel as if he was selling me a product, but selling me what needed to be done to have the job done correctly. The best part of the experience was the work crew. I was out of town when the job was done, but the lead crew member maintained good communication with my wife and made her feel completely comfortable with the crew at our home. When I returned home, I texted the lead crew member with some questions, he responded immediately and stated that help was a phone call away if there were any concerns. A few last things that are worthy of mentioning. This is the first time in years that our home has not had random odors showing up! The air quality in the house is completely different! Our sagging floors are no longer sagging! Great choice with a local company! Great choice going with SouthernDry!
Michael M. , AL
Very fast, very good--and they were very willing to work with me to find a solution that met all my needs without going over my budget! Thanks John, Calvin, and Russ, for your customer service and offering such a nice quality product.
Dustin H. - Huntsville, AL 35802
Entire team was very professional. They were excellent at communicating what needed to be done. They were always on time and let you know every step of the process. There was no high pressure sales techniques. They give you the quote and you can start on your timeline. Just call them when you are ready. I got quotes from the more widely advertised foundation repair companies as well and SouthernDry gives you the same product and same warranty at a great price. They worked hard to work around the landscaping. They also did an excellent job of cleaning up. I highly recommend them.
Rob M. - New Market, AL 35761
Everyone I spoke with from SouthernDry was top notch. I prefer doing business with people who are average, regular, down-home folks trying to make an honest living. If you're like me and want someone straight up to give you a reasonable quote on your repairs, call Calvin. They were fast, gave me a date to begin, started that morning early and did a fantastic job. Juan was the foreman on my project and if I had a question he had an answer for me. He was extremely nice and knowledgeable about what was being fixed and done. I was never left in the dark about anything. I had some pretty major foundation issues on one side of my newest house. The back sill plate was rotten and the floor was sagging from no support in the rear. Juan and the crew installed 6 piers, replaced the sill plate, cleaned the crawlspace completely, installed 5 jack supports, encapsulated it all and installed a dehumidifier and battery back up, and made me a 2 new doors in 3 days! So Calvin, Russ, John, Juan, and the other crew, thank you for a job well done. The house looks a million times better! I really appreciate it!
David J. - Cleveland, AL 35049
The company did an excellent job and we are very pleased with the result. The owner John Kabel and his customer coordinator Russ are customer oriented and strive to work with the client. The crew chief Juan was awesome and a pleasure to work with. We had a little trouble with communication at the start but they solved that right away. We would hire them again. They are the only company that uses solid 4x6 girders. Our rating is 4.5 stars.
Charles N. - Huntsville,AL 35806
Great service. The job was completed same day as quoted. Once the project was complete everything was put back just like it was. Very polite and took pride in their work! 5 STARS plus!!
Carl L. - Helena, AL 35080
SouthernDry was great!! They completed the job in a timely manner and they did exactly what they said they were going to do. The project manager explained everything to me and how the process would work. I am beyond pleased.
Adrian B. - Birmingham, AL 35049
From start to finish, SouthernDry treated me as a customer with courteous responsiveness. They answered all my questions, made practical recommendations (without the up-sale in mind) gave references that had glowing praises all around. The workers were neat and efficient with their time. It made the whole process smooth and pain free.
Amy L. - Brownsboro 35741
The rep for SouthernDry came in very courteous and explained exactly what was needed and told me there were two things that I didn't need which was included in an estimate from a competitor which Southern Dry beat by over 50%. The communication with the owner was superb. The work was completed in half a day. I highly recommend SouthernDry!!!!!
John K. - Birmingham, AL 35049
Very professional, showed up early, and did a great job. I would highly recommend them.
Donna C. - Montgomery 36109
We couldn't be more pleased with SouthernDry. We were in a bind with a pending sale of our house and a leaking basement. John Kabel was extremely responsive. In fact, his response was same day, on a Saturday! He quoted the job on Monday and the work was completed by Thursday. Many thanks to him and Russ for juggling their schedule to accommodate our timeline. They even went the extra mile with the new owners in regards to the warranty and explaining the waterproofing system. Both are professional and personable. Juan, the foreman, is conscientious and takes care of the little details. Both the experience and quality of the work are top notch.
Kathy W. Anniston 36207
SouthernDry was so professional and so helpful. They waterproofed our basement, which is over 700 sqft in ONE day! I am so pleased with the results!
Jenna L. - Albertville 35951
Outstanding customer service, professionalism, product line, pricing. Wish I had known this company 2 years ago when my other house needed waterproofing.
Norden L. - Birmingham, AL 35242
Our promise as a contractor is to build community value into every project while delivering professional expertise, exceptional customers service and quality construction.
Partners & Certifications